If you are new to cooking but want to cook to impress, I suggest you master a simple dish that's stunning to look at and delicious at the same time. This is one such recipe that you could attempt, while still looking sexy and in control. For the lazy cook too, this makes for a no-brainer recipe as you would only require 1 pot and its nearly about throwing all the ingredients into the pot, cover and simmer and voila, a dinner is served complete with protein and vegetables.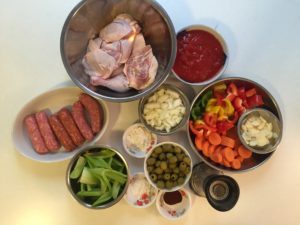 My guest Iwa wanted something tasty that she could make for her family of 4 that's easy to execute as she doesn't like to cook. The sausages adds texture and flavour into the stew, and there's nobody I know that don't like sausages! This stew is so versatile and you can make changes depending on your pantry stock. You can use different parts of the chicken meat or chicken breast. You can use bratwurzt or lamb sausages. Even chorizo sausages for a little bit of flair. You can modify the type of vegetables to use, or add extras. Vegetables like zucchini, egg plant, potatoes, mushrooms are great alternatives too. If you are cooking for a spicy sensitive audience, you can opt out of the chili powder completely or tune it up if you like it hot, like I do 🙂
Now look the part of a domestic goddess – put on that apron, and try out this recipe. I can guarantee you, your guests will ask for seconds and you feel like a million bucks!