Happy Labour Day and Happy Sunday!
In line with appreciation day for all those who has worked hard, I would like a shoutout to my Spartan Super Fit and Fab team. Each one of them made time today to come and train together, and we had a killer routine, mind you. I am so proud of them, most of us in the 40 – 55 age group but physically fit and strong, leading a demanding lifestyle and yet they made time to meet this Sunday morning as a commitment to our group. I would like to appreciate each one of them today:
Lisa Mullings – a mother of 3 young kids, a BodyAttack and BodyPump instructor. Focus and constantly supportive. She has the stamina and body that I admire.
Anna Wong – a gorgeous lady who leads a demanding travel lifestyle but has the most admirable determination to succeed and the perseverance to commit. She is going through a difficult time dealing with her injuries but she still runs faster than me! How come?!
Samuel Lee – a father and the most mature of our team members but youthful in spirit, body and mind. He is the most encouraging and steadfast of the lot. Always smiling and always calm.
Nicolas Renaud – father of two young boys, a full time job but a commitment to stay fit and help others. A volunteer for the Shape (women fitness magazine) Run as a pacer, he is used to having women chase after him smile emoticon A bear crawl expert. That aside, his energy is contagious!
Stewart Heath – the youngest and most playful of the team. Keeps us laughing but drills us lot like a commando. His coaching is borderline slave driver, but delivered in the most gentle and motivating manner so although you are feeling the burn, you wouldn't dare stop! But we found out his weakest link this morningwink emoticon
Pitty Pat – although not part of the team, she trained with us today for the motivational support. Pat has been my lifetime fitness role model. This ultra runner has the most generous of hearts and amazing strength in times of adversity.
Thank you team for the amazing start of a Sunday, loving it.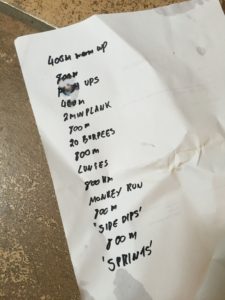 Summary; besides drenching in sweat and stinky as hell, i would rate it 8-9 in difficulty. (Each circuit was 20 reps).
Super Spartan, 13km+ Run with 29+ obstacles – Saturday May 7th, here we come!!