I love juicy plump sausages! Better still if they are homemade.
In this show, we have Sidecar Sausage man, Mat showing us the tricks of the trade with a recipe I created, Teriyaki Chicken with Seaweed. Watch how Mat makes one very long sausage and then link them into a beautiful gorgeous bunch of sausages!! If you don't have a sausage makerat home, no worries mate! This delicious mince can be made into meatballs, burger patties or a meatloaf too! Definitely a family recipe for keeps.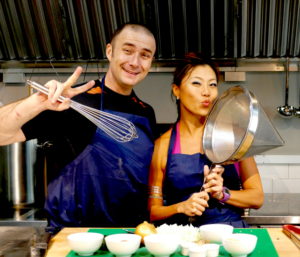 Mat leads an extremely busy life, I am so lucky to have him on the show despite his crazy schedule. Once a very fit man, his hectic career doesn't allow him any time for exercises. So its great to be able to do this quick 7 minute workout with him. Although short, its highly intensive to keep our heart racing and calories blasting. Whenever I find the time, I will do 2 to 3 sets to get a full workout!
In this episode as well, I had the melodious pleasure of working with a sound designer Chris Cunnold, who has generously provided my signature intro tune and the amazing sounds for the entire show. I am so grateful for your help Chris, rock on! 🙂
For the full recipe, go HERE.
For more information on where you can buy artisanal, no-preservatives, gluten free sausages, go to Sidecar Sausages!